Deepsight DataDesk is platform that applies Natural Language Processing (NLP) techniques to assist the analysis of qualitative data for market researchers and marketeers. I led user research and product design of the web application.
Problem
Deepsight is a German startup that researches the application of NLP techniques to support qualitative data analysis for applications such as anonymization of documents, cluster analysis and thematic analysis for data from market research.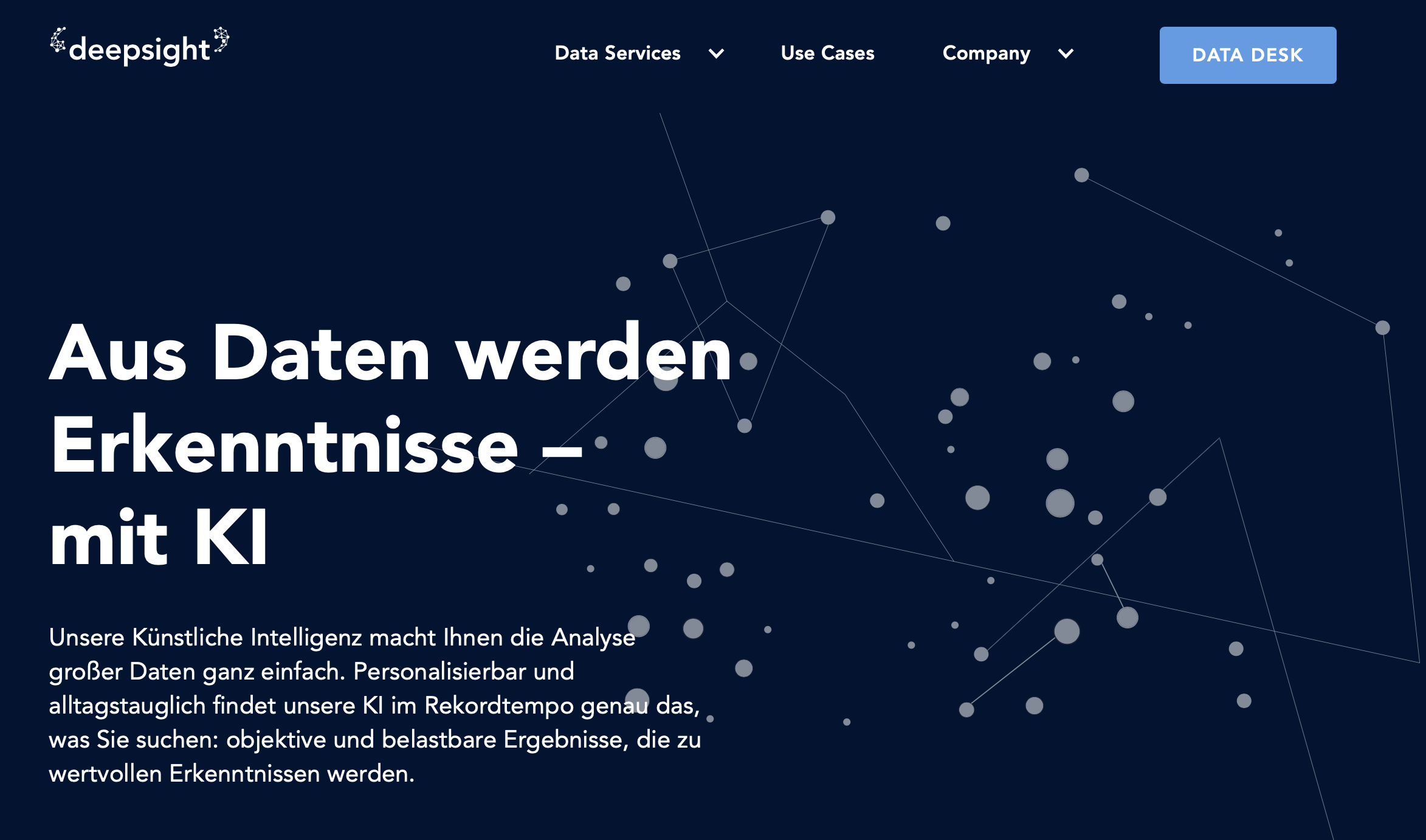 The team approached me with the ask to support their effort to make some of their services accessible to researchers that conduct qualitative analysis of data, such as market researchers or user researchers.
Such end users, while not trained in Natural Language Processing, are experts in qualitative research methods and qualitative data analysis.
Data might entail survey responses or interview transcripts. Researchers might need to anonymize data, remove non-sensical data points or conduct thematic analysis.
User Research
In order to better understand the problem space, I conducted an initial discovery phase with a series of semi-structured interviews with market research professionals.
We identified a number of different personas, distinct user needs and goals, such as the need. To put it simple, market researchers (external agency or internal departments) conduct market research for (external or internal) clients. Most initial anonymization and analysis is conducted by junior staff that is closely supervised by more senior researchers. Mimicing such a workflow, we envisioned an application that would assist the work of junior and senior researchers. The system might support repetitive, manual tasks, such as finding and anonymising contact information, grouping survey responses into themes etc.

Solution
Based on prioritised user needs, I defined user journeys and information architecture to describe the conceptual design and object-oriented UX for the web application.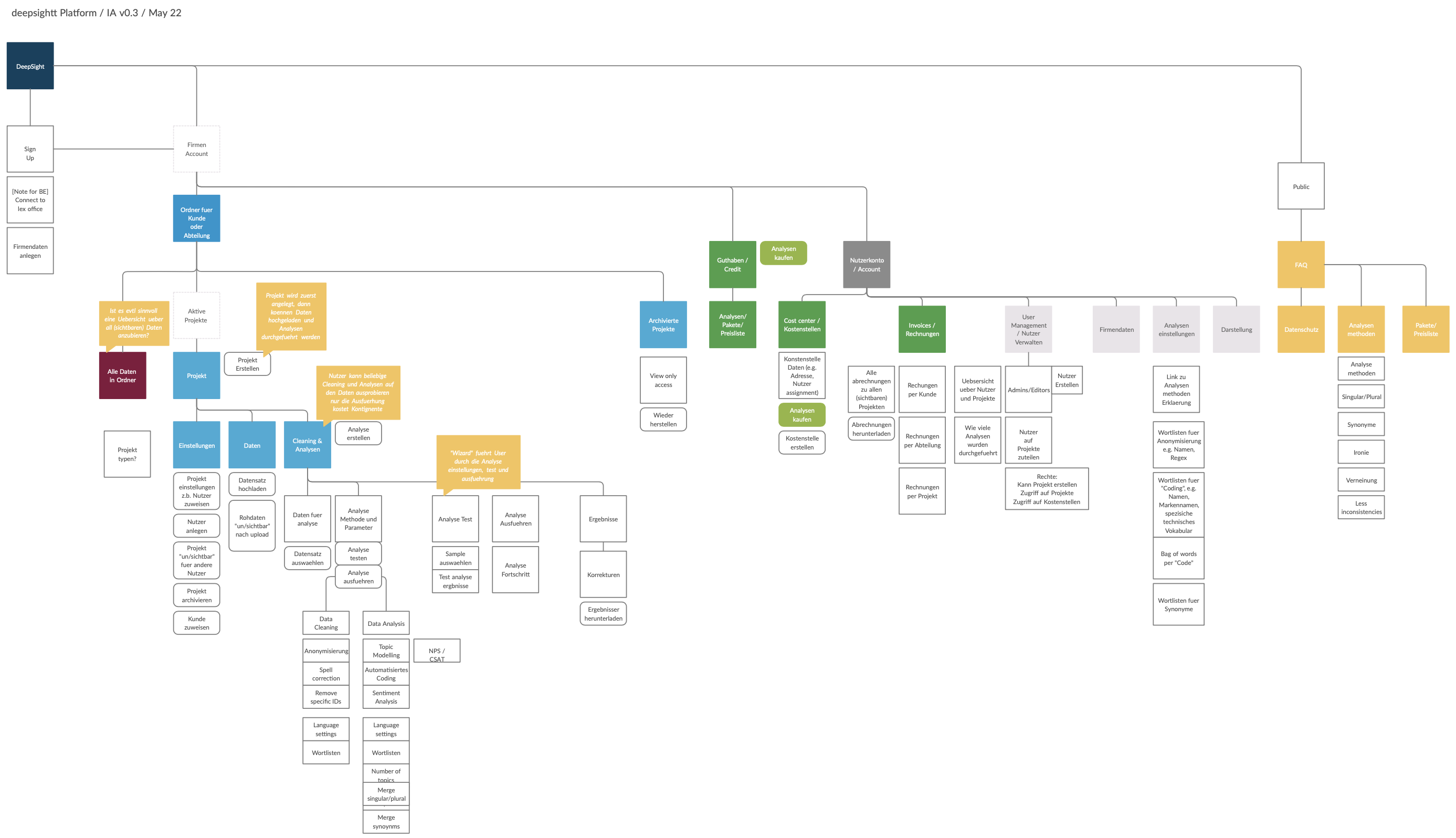 The overall concept was also captured in a story map and translated into a backlog of epics and user stories on Jira.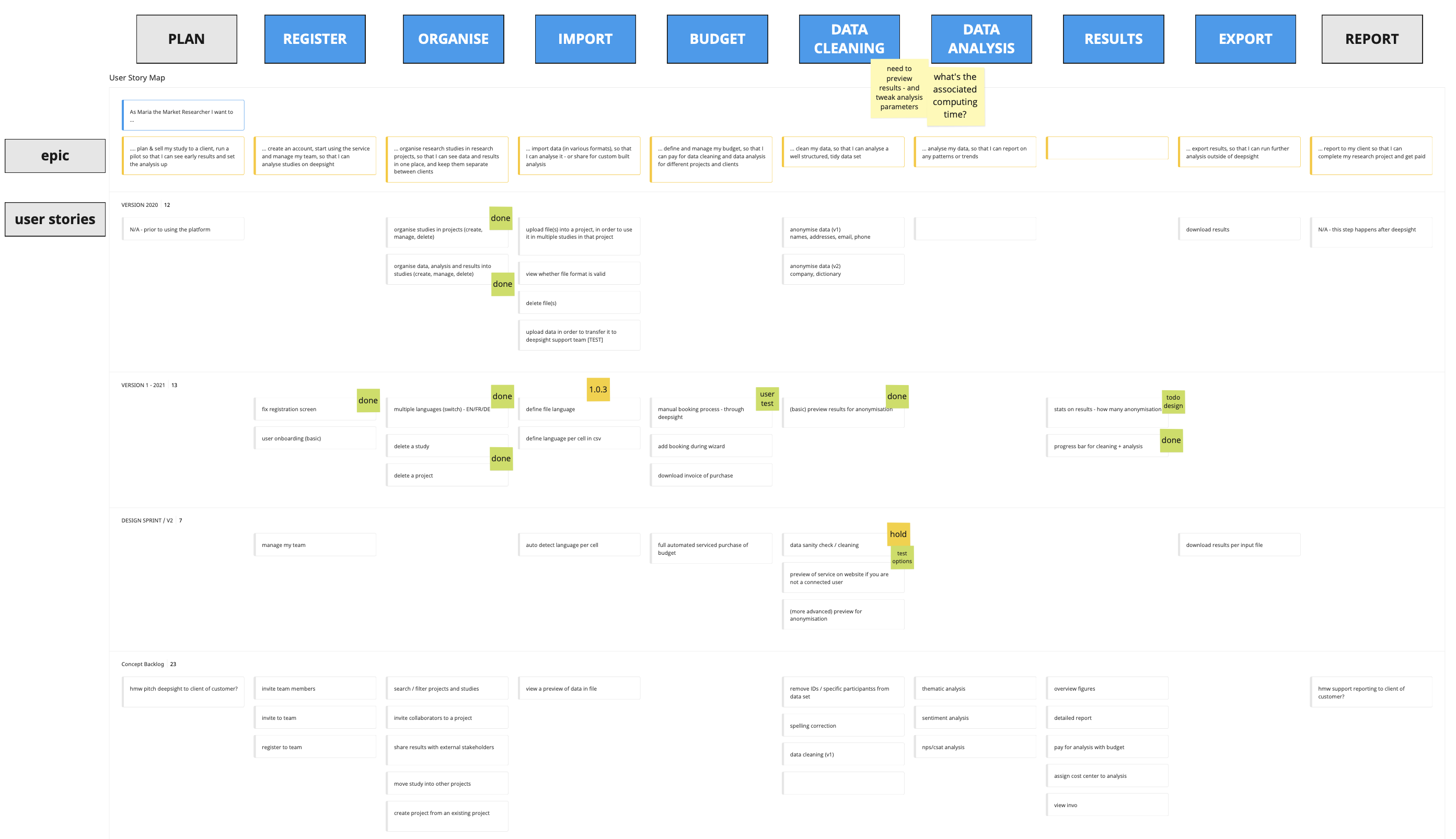 Conceptual Design
The concept was further refined to explore interaction design for creation, execution and organisation of machine assisted studies and data analysis.
The purpose of such rapid, low-fidelity prototyping is to quickly compare and test different conceptual directions. In this case we explored a "wizard" as well as a "notebook" approach for project creation.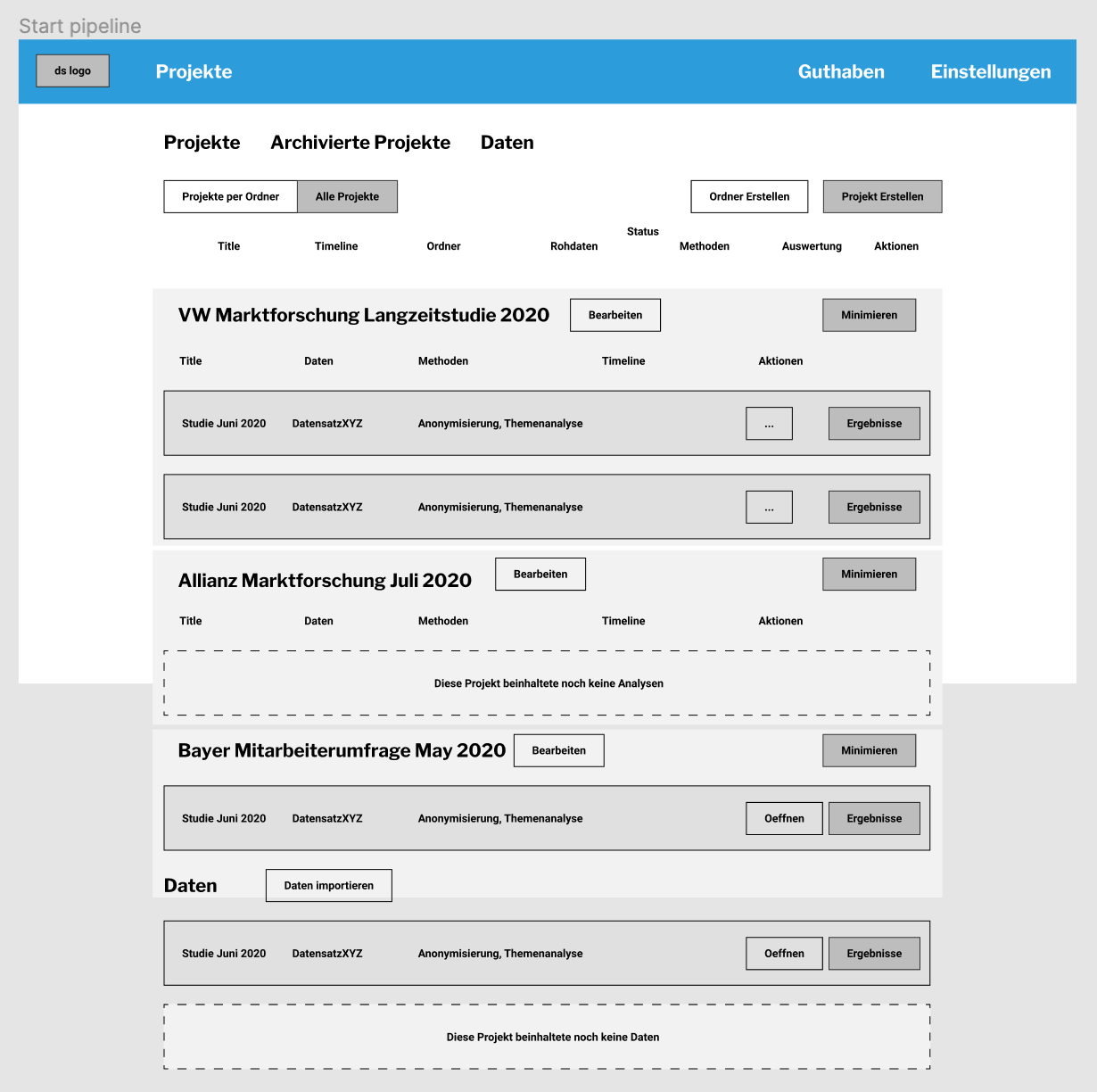 I worked closely with deepsight's team of data scientists and research to explore of how to best assist market researchers' activities for data analysis.
Different iterations were continuously evaluated through small batches of user tests with market research professionals.
Delivery
Finally low fidelity designs were translated into a polished prototype with fully developed brand and visual design with the help of Karolina Orawski.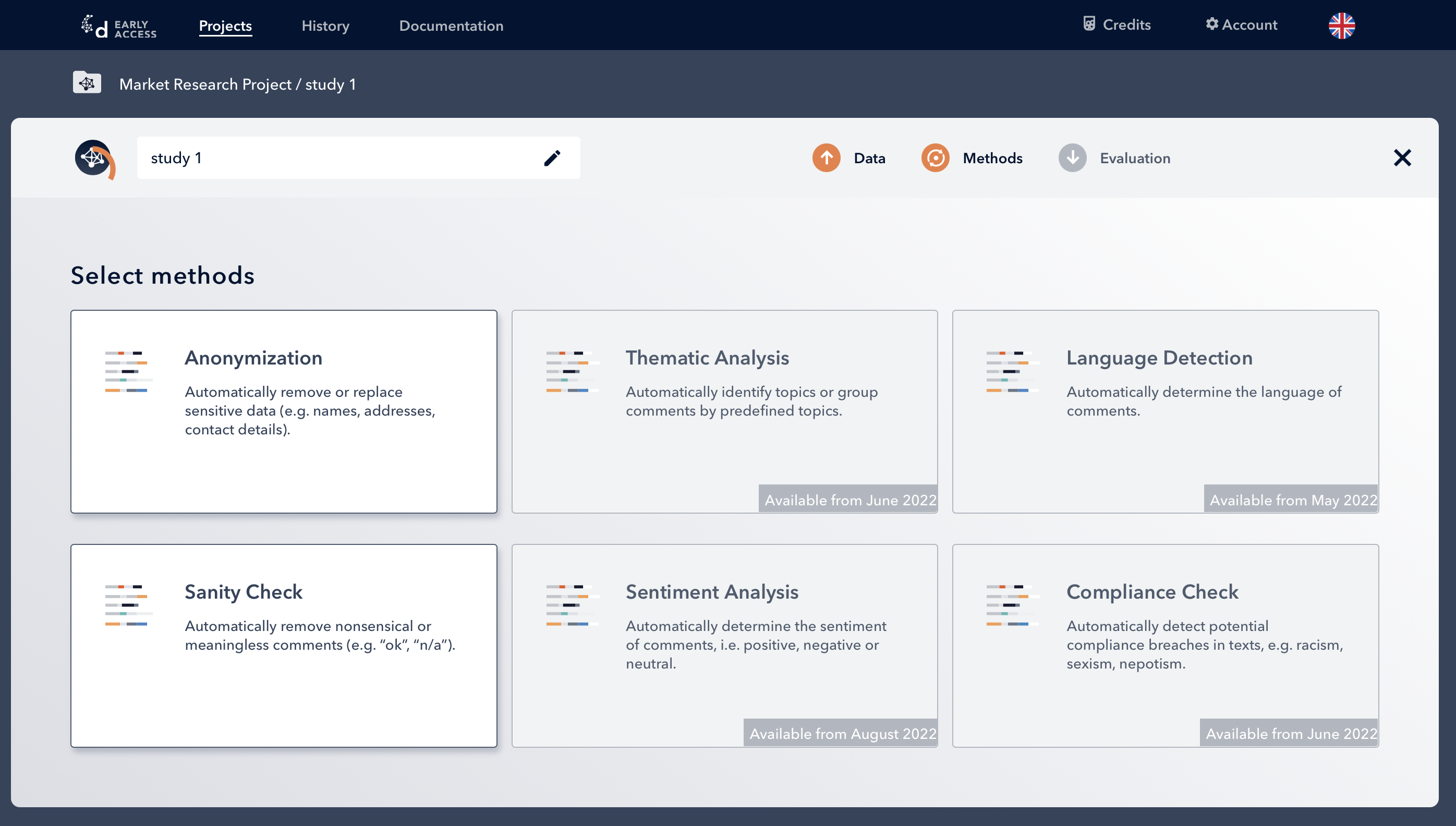 The overall architecture helped to work through design process and testing in an lean, wasteless way. Most importantly it also allowed to sign off individual batches of work for agile development of the web application. Development work was coordinated through a shared backlog on Jira and Confluence.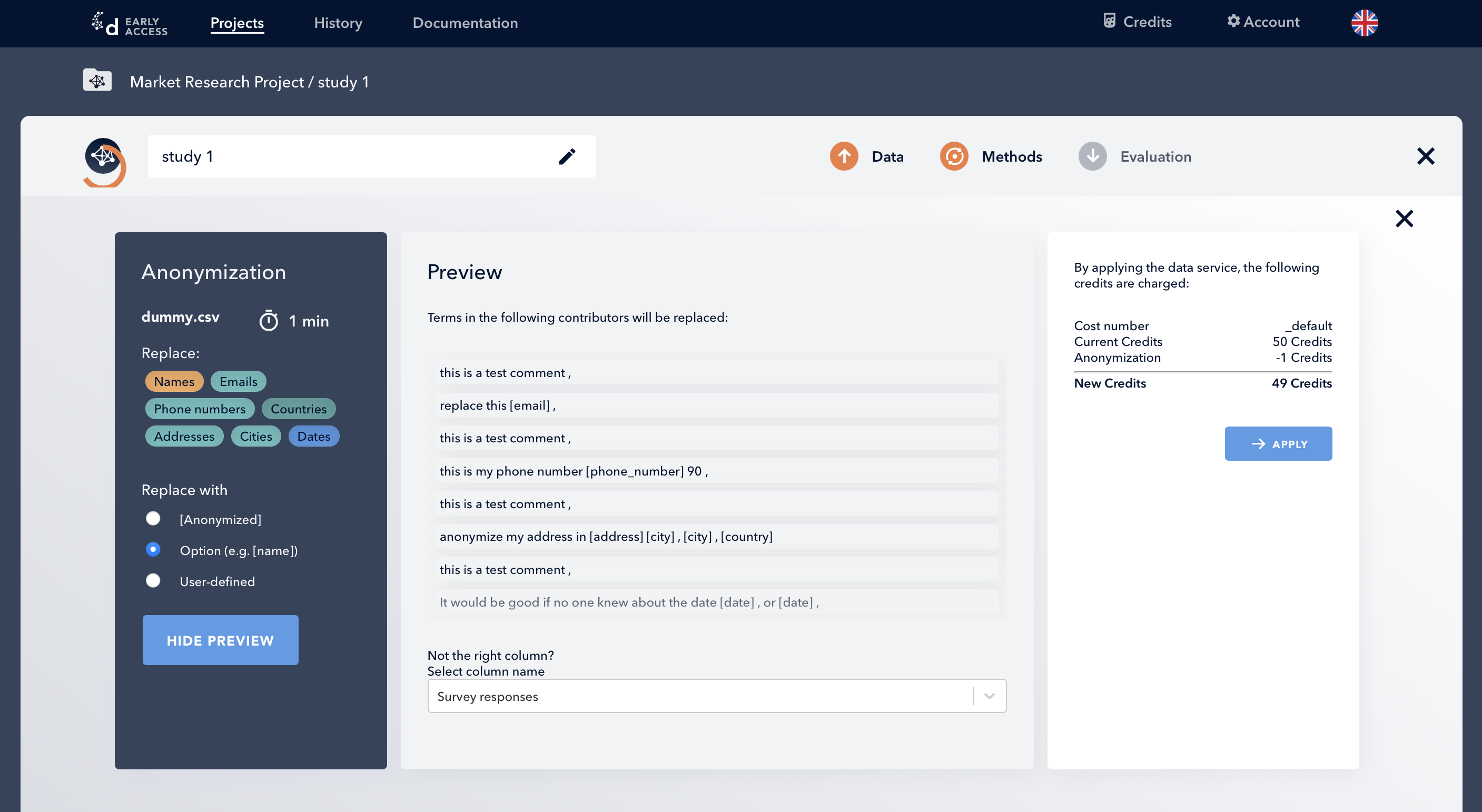 Outcome
Deepsight DataDesk went live in 2022. The platform currently allows users to upload data (e.g. survey responses from market research surveys), apply data services onto the data (e.g. anonymise and clean data) and review results. The platform provides a framework that allows for future NLP services to be plugged in in the future. Design and development are ongoing, while the startup grows and advances their toolbox of NLP services.